Your shopping cart is empty!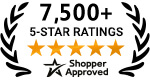 Gold Eagle Sta-Bil Fuel Stabilizer / 32 oz. bottle
Brand:
Stens
Product Code:
770135
Availability:
In Stock
Price: $31.81

Gold Eagle Sta-Bil Fuel Stabilizer / 32 oz. bottle
Part number : 770-135
Pack size : 1 ea
UPC code : 073905222402
Specifications
1 oz. treats 10 gallons of fuel, 32 fl. oz. bottle treats 320 gallons of fuel, Double the corrosion prevention and 4 times the fuel system cleaner as regular Sta-Bil, Extra corrosion protection and fuel system cleaning, Made by Gold Eagle, Order 6 for complete case, Recommended for ethanol blends, Recommended to be used at every fill up, not just for seasonal storage, Safe to use in all lawnmowers, tractors, trimmers and all outdoor power equipment, Use in all 2-cycle and 4-cycle gasoline and marine engines, gasoline/oil mixture and ethanol blends
• Item 770-135 is considered Hazardous Material and can only be shipped ground carrier.
Write a review
Your Name:
Your Review:
Note:

HTML is not translated!
Rating:
Bad
Good
Enter the code in the box below: